Rethink Your Drink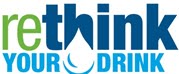 Are you and your family staying healthy and safe?
---
Ask yourself and your family:
Exercise regularly? Do you hydrate with water or sports drinks?
Are soft drinks your main beverages with meals?
Do you read labels to compare the sugar content of beverages you purchase?
Sugary drinks contribute to the growing obesity crisis in Stanislaus County. Celebrate your health, leave the sugar behind.
The Facts:

Sugared drinks are the largest contributor of unnecessary calories in the American diet. These calories add to weight gain. (i)
The average 20 oz. soft drink contains about 68g of sugar...that's 17 tsps of sugar! (ii)
Reducing sugar & calorie intake, helps maintain a healthy weight and decreases the risk of type 2 diabetes.
Sports, energy, and sweetened tea drinks can contain as much sugar as soft drinks...read the labels.
Preserving a healthy weight is much easier than losing weight. The average person walks 1 hour to burn off the calories in a 20 oz. soda. (iii)
Tips for Winter Success:
Stay hydrated with water, just because it's cold does not mean your body doesn't need fluids.
Avoid drinking beverages high in sugar or caffeine, preventing dehydration.
Drink de-caffeinated hot tea, it's a healthy, low-calorie beverage to keep you warm and hydrated
Switch to low-fat milk options, with little to no added sugar, for drinks like hot chocolate, lattes or cappuccinos.
Healthy Cafe Mocha

Source: United States Department of Agriculture, USDA'S Collection of Nonfat Dry Milk (NDM) Recipes
Yield: 2 servings
Ingredients:
1 cup milk (skim)
1 cup coffee (brewed)
4 tablespoons hot chocolate mix
Non-fat whipped topping (optional)
Cinnamon (optional)
Instructions
Heat milk in saucepan until warm; do not boil.
Add coffee and hot chocolate mix. Stir well.
Divide coffee mixture between two mugs. Top with non-fat whipped topping and cinnamon, if desired.
Note: For a healthier option, use 2 tablespoons unsweetened cocoa powder and 2 teaspoons sugar instead of hot chocolate mix.
Rethink Your Drink campaign goals are to:
Decrease Californian's consumption of sugar-sweetened beverages.
Replace them with healthier, affordable beverages like water.
Reduce empty calorie consumption.
Encourage healthy weight.
Improve the health of Stanislaus County residents.
For more information or Rethink Your Drink resources, call (209) 525-4834
Network for a Healthy California
To create environments that support fruit and vegetable consumption and physical activity.
(i) Guthrie JF, Morton JF. Food sources of added sweeteners in the diets of Americans. Journal of the American Dietetic Association 2000; 100(1):43-51 (ii) United States Department of Health and Human Services, U.S. Department of Agriculture. Dietary Guidelines for Americans, 2010. Chapter Two: Balancing Calories to Manage Weight:16. (iii) The Yummy Life. Easy Fruit & Herb Flavored Water. [Online]. Retrieved July 16, 2012: http://www.theyummylife.com/recipes/251/Easy+Fruit+%26+Herb+Flavored+Water.