COVID-19 Vaccine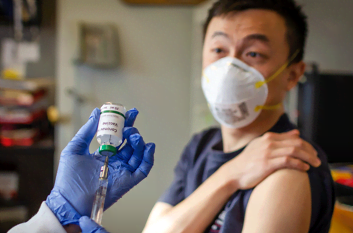 COVID-19 Vaccine Clinics
Stanislaus County Public Health's COVID-19 Vaccine clinics will be open next week for individuals identified in Phase 1A and Seniors aged 65 and older. Vaccines are available to Stanislaus County Residents only.
- Acceptable proofs of residence [pdf] -
Vaccination Screening Form
Vaccination screening forms will be provided at the clincs. If you wish to fill out your screening prior to ariving at the clinc, you may download a copy.
Clinic Locations & Hours
Modesto Centre Plaza:
1st Dose Only - Monday, 1/25/21
2nd Dose Only - Tuesday & Wednesday 1/26-1/27/21
Both Doses - Thursday & Friday, 1/28-1/29/21
Time: 9am-4pm
Address:
1000 L Street
Modesto CA 95354
Parking will be available at the Modesto Centre Plaza, and both City-operated garages on 10th Street and 9th Street.
Stanislaus State:
1st Dose Only - Monday 1/25/21 & Wednesday 1/27/21
Time: 9am-5pm
Address:
1 University Circle
Turlock, California 95382
Located at Fitzpatrick Arena. Entrance off Geer Road.
Walk-in, First Come First Served.
Gladys L. Lemmons Senior Community Center:
1st Dose Only - Tuesday 1/26/21
Time: 9am-5pm
Address:
450 East A Street
Oakdale, California 95361
Off-Street parking is available at the Senior Center off of A Street. Once the parking lot is full individuals will be able to park on the street on N. Sierra Avenue, N. 4th Avenue, and other nearby neighborhood streets.
---
---
A safe and effective COVID-19 vaccine is one of the most important tools in ending the COVID-19 pandemic. To keep everyone in Stanislaus County safe and healthy, we're using the most relevant science and data available to address COVID-19's threat to our health and economic well-being, including providing the COVID-19 vaccines. By getting vaccinated, we can slow the surge and help our community, including our healthcare system, schools, fellow community members, and businesses, recover.
Stanislaus County Public Health Division is coordinating COVID-19 vaccinating efforts based on guidance recommendations from the California Department of Public Health, the COVID-19 California Governor's Vaccine Task Force, and the COVID-19 Vaccine Task Force Working Group.
Until vaccines are available in larger quantities, the distribution will be prioritized in phases as planned at the federal and state levels. See below for a brief overview which will be updated as more information becomes available. There is not a 'waiting list' for vaccines.
---
---
Additional Vaccine Information
COVID-19 vaccines are just one of many tools that can help keep our community safe. Even after receiving a vaccine, members of the community should continue to mask up, physically distance, and follow all recommendations until we can ensure everyone is safe from the impact of COVID19.