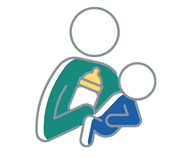 Infant Formula Availability
Stanislaus County Women, Infants and Children (WIC) is aware of the formula shortage's impact on WIC participants and all formula-feeding parents and caretakers. Please be aware that some stores may limit the number of cans that can be purchased per shopping trip due to recent formula shortages.
What should you do if you are having difficulty finding infant formula?
WIC families who are unable to find their regular formula can temporarily mix and match over 100 formulas. Visit CDPH's WIC Formula Shortage page for a list of formulas you can purchase with your WIC benefits.
Begin purchasing formula when benefits are issued. Do not wait to make purchases until the end of your benefit cycle.
Call stores before you shop to ask if your formula is in stock or find out when they expect to receive their next shipment. See below for a list of stores in Stanislaus County that accept WIC benefits.
Talk to your pediatrician about a safe alternative if you are having trouble finding your specific formula.
Parents and caregivers should never dilute infant formulas and should not make or feed homemade infant formula to infants. If breastfeeding is an option, please reach out to WIC for support at (209) 525-4838.
Authorized WIC Stores
See below for a list of WIC authorized stores and their phone numbers in Stanislaus County.
Additional Resources
For the latest information for WIC families, visit California Department of Public Health's (CDPH) WIC site.
For more information on the formula shortage and helpful resources, visit CDPH's Infant Formula information page.
MCAH has launched a new webpage in both English and Spanish to share up-to-date information and helpful resources related to the recent national infant formula shortage.